Notes
The Book Artist and the Archivist: A Shared Perspective
By Andrea Kohashi
December 2015
¶ 1 Leave a comment on paragraph 1 0 Designing and producing an artists' book is akin to processing an archival collection—one takes "raw" material and creates a system of order so others can access that information. While the end products may appear different, it is possible to argue that an archival box, full of intentionally arranged documents, is an object of Book Art intended for interpretation by others. In my roles as book artist and burgeoning archivist, I'm drawn to the parallels between the two fields, including the physical and intellectual arrangement of content, the promotion and preservation of history, and the physical and conceptual evidence of the people behind the objects of creation.
¶ 2 Leave a comment on paragraph 2 0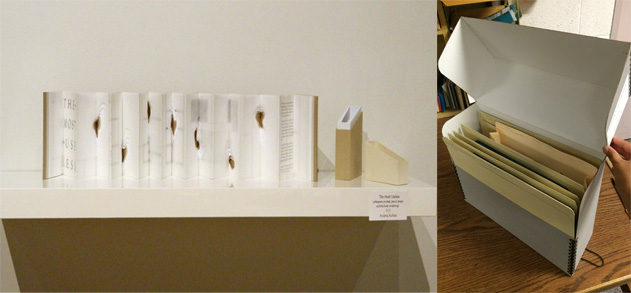 Artists' book and artists' book? Photo of artists' book: Kim Maher.
¶ 3 Leave a comment on paragraph 3 0 I consider myself a book artist: relying on both the paratextual and textual elements of books, I employ a range of book structures, imagery, and text to convey meaning. This is an oversimplification of the nature of Book Arts; the field itself is astoundingly diverse and tends to resist strict boundaries. My work usually incorporates letterpress printing off of handset metal type, photosensitive polymer plates, carved linoleum, and found objects. The book structures I use range from codices to expansive accordions to loose sheets housed in a box; occasionally they contain pop-up and movable elements.
¶ 4 Leave a comment on paragraph 4 0 During the conceptualization and design stages of producing an artists' book, I am interested in the possibilities inherent in indeterminacies related to ideas of organization and categorization. An artists' book allows me to play with and even subvert the conventions of traditional books. I'm continually questioning the relationship between material, text, image, and structure because text doesn't need to be structured into semantically or syntactically correct sentences, nor do images need to be directly illustrative. Through the seemingly limitless possibilities of the arrangement and placement of text, and the grouping of outwardly disjunctive images, I ask the future reader to find meaning in a new system of organizing and categorizing information. Simultaneously, I'm aware that the further away I move from convention, the greater the possibility of ostracizing my audience.
¶ 5 Leave a comment on paragraph 5 0 In reaction to the multitude of choices regarding material, structure, content, and layout when creating an artists' book, there's a sense of rigidity in how I approach designing, planning, and producing a final piece. I tend to create a system of organization and categorization and only allow myself latitude within the chosen system. Though I may be subverting traditional text and image conventions, the system I choose must be accessible to future readers. Establishing and following tight parameters makes it easier to convey the organizational system I've constructed. Visually, I impose grids on all of my work, which gives me a sense of direction because I am able to move text and images along set lines and units, constantly assessing if elements of the page should move left, right, up or down. The grid, though arbitrary in its own creation and existence, helps establish a structure to work within.
¶ 6 Leave a comment on paragraph 6 0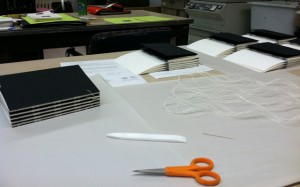 Binding an edition of artists' books.
¶ 7 Leave a comment on paragraph 7 0 My systematic approach to designing and executing a work emerges from a desire to organize, categorize, digest, and convey information. In my work at the Iowa Women's Archives at the University of Iowa, I'm accessioning, processing, and writing finding aids for collections, striving to organize a range of materials including personal correspondence, photographs, and artifacts. Just as I question the ways in which my organizing information affects readers when designing an artists' book, when processing an archival collection I'm constantly evaluating how my organizing and categorizing impact a future researcher's ability to access and process information. Designing an artists' book is never a neutral act, nor is processing a collection. The life of an individual, family, or organization is often a complicated narrative and the items we receive in archives reflect that complexity: papers and artifacts accrue and overlap in chronology and subject matter. Recently, while processing an individual's papers I struggled with deciding how to organize the people and events that were reflected in a large tub of disorganized photos. The individual, family members, friends, and coworkers appeared in multiple configurations in hundreds of photos that covered a seven-decade span. Depending on how I grouped the photos, I could be emphasizing the individual's family life over their professional life, certain life events over friendships. Though all the photos, no matter how they were grouped, would be accessible to a researcher, they would be presented in a certain order that would betray my own biases and decisions when organizing the photographs.
¶ 8 Leave a comment on paragraph 8 0 While the fields of book artist and archive professional are inherently linked through the desire to organize and arrange information, the importance of the preservation and promotion of history in both is equally apparent. In Book Arts it is often lamented that we use obsolete technology, not only limited to the printing press but to a whole arsenal of tools, techniques, and equipment. While we are using these artifacts and processes to create our art, we are concurrently promoting public awareness of print and book history, equipment, and technology that, for example, can be seen in the growing popularity of letterpress-printed wedding invitations and stationary. Though it is personally important to me to use "obsolete technology" such as hand printing or hand binding in each of my pieces, the nod to history emerges in ways beyond physical production. In designing my artists' books I'm acutely aware of how my breaking with convention might alert a reader to differences between what I've created and historically based traditions such as rectangular text blocks or books being paged consecutively from right to left. If I'm trying to convey a textual narrative, it's not lightly that I eschew the (Western) tradition of reading left to right and from top to bottom.
¶ 9 Leave a comment on paragraph 9 0 Promoting the history of book and print technologies is self-serving because it promotes interests in Book Arts itself—hopefully inspiring new artists, garnering more collectors and enthusiasts, and drawing attention from scholars. This desire to share is similar to that found in archives. Archivists are continually brainstorming how to promote historical materials and documents to a wider audience in order to attract more scholars, researchers, and material. It is not surprising that social media has become a widespread tool to advertise materials held in archival collections. At the Iowa Women's Archives I have a colleague who actively posts images and papers to our Tumblr site, specifically on "Women's History Wednesdays," in an effort to reach a broader and more eclectic constituency. In editing posts, I have experienced how difficult it is to represent a collection through brief written descriptions and one or two relatively decontextualized images. Though this type of advertisement can appear to pander to superficial interests and followers, we have gained a following of people who have been able to contribute information about papers and objects in our collections that we were not aware of. In promoting the more eye-catching artifacts and papers we collect in the archives, we are hopefully piquing interest in the provenance and narratives surrounding these items and more broadly in the collections themselves. Ultimately, the book artist is interested in the fruits of their labor entering the public sphere, so too is the archivist interested in the fruits of their labor entering (or re-entering) the world.
¶ 10 Leave a comment on paragraph 10 0 Most recently in my book arts practice I have been exploring the relationship between human processes and machine processes. To make a long history brief, book making began with highly skilled craftspeople, entered a period of rapid industrialization, then mechanization, and has now landed in a digital landscape where e-books and print-on-demand have become standard. I'm acutely aware of my own hand pulling prints and sewing bindings as I make my work, but I'm also aware that many book artists, including me, take advantage of digital design and production technology. No matter the mode of production, what draws me into artists' books and into making my own books are the human elements made apparent through more abstract expressions like narrative, intention, and meaning, and sometimes in physical traits such as handmade paper or hand sewn bindings. Having the experience of pulling my own sheets of paper from a vat of pulp or spending hours pulling thread through paper draws me closer to the books I create. Likewise, when I'm processing collections in the archives, I can't help but be drawn to the handwritten letters, braided locks of hair, and carefully hand-assembled scrapbooks that are constant reminders of the people who sat down to write those letters, carefully cut their hair, and paste photos into albums. Using the physical products of human creation as points of entry and connection, I'm able to delve more deeply into the lives of the individuals and organizations collected in the archives. In archives, we are moving toward digital database-management systems to allow for more accurate searching and more widely available information. These systems are merely tools to more easily reach the human lives represented through the papers, artifacts, and documents neatly arranged and housed in boxes in closed stacks.
¶ 11 Leave a comment on paragraph 11 0 Though I don't want to make the argument that all archivists are book artists, or vice versa, I do think the perspectives on information overlap in a way that makes it natural to step between fields. The ways in which I conceptualize designing an artists' book are the same ways in which I conceptualize organizing materials in archival collections. The elements of history and tradition inherent in creating any book work are also inherent in all archival collections. Most significantly, the life and emotions of the artist evident in all artists' books are paralleled by the evidence of life and emotion found in the papers and artifacts in the archives.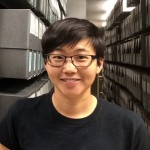 Andrea Kohashi
Assistant in the Iowa Women's Archives – University of Iowa