Notes
Digital Resources for Teaching Caribbean Literature and Culture
By Stacey Amo
March 2014
¶ 1 Leave a comment on paragraph 1 0 In courses on Caribbean literature, affordable texts that are currently in print dominate syllabi. Thanks to relatively recent efforts to digitize Caribbean materials, however, there is now a much larger range of authors and texts that teachers can incorporate into the classroom. The following collections can be used to create a multi-vocal course in which questions of representation, translation, and history can be foregrounded through the study of different genres, minority authors and languages, and the visual arts.
¶ 2 Leave a comment on paragraph 2 0 The Caribbean Literature database, compiled by Alexander Street Press, offers full-text works in over seven different languages and contains texts from the eighteenth, nineteenth, and twentieth centuries.1 For example, Slave Song, David Dabydeen's 1984 Commonwealth Poetry Prize-winning collection, is out of print, but this database makes it available. This volume, which presents poems written in Guyanese Creole as well as English translations and notes by the author, allows students to study original Creole poetry while reading it alongside its translation.
¶ 3 Leave a comment on paragraph 3 0 A resource that complements Caribbean Literature is the Digital Library of the Caribbean (DLOC), which centralizes materials from over twenty different university collections. DLOC contains a variety of materials, including literature, course syllabi, newspapers, and oral histories. Its Jamaica Unshackled collection, for example, can supplement discussions of events such as the 1865 Morant Bay Rebellion in Jamaica, which is depicted in V.S. Reid's novel New Day (1949). Students can then compare the different representations, journalistic and literary, of this major event in Caribbean history while also considering the larger relationship between literature and history.
¶ 4 Leave a comment on paragraph 4 0 Other resources provide more tailored information about specific subsets of Caribbean literature. The Guyana Journal provides an extensive list of Indo-Caribbean works, which are not taught as often as Anglophone texts are. The Caribbean Poetry Project at the University of Cambridge focuses on teaching Caribbean poetry at the secondary level, but contains materials that can be useful for university students and professors as well. The audio of poets such as Olive Senior, Velma Pollard, and John Lyons reading their poetry at the 2012 conference, The Power of Caribbean Poetry: Word & Sound, is available here.
¶ 5 Leave a comment on paragraph 5 0 Online archives help introduce images as well as sound into the classroom. Photographs and images available through Picture Dis – the National Library of Jamaica and the colonial collections of the National Archives UK provide another view of the Caribbean and Caribbean culture. Alone or paired with texts, these images could help students work through questions about perspective, representation, and the role of the artist, or what some might call questions of "the gaze." With these collections, teachers can expand the range of authors and genres they cover in their courses, as well as supplement literary texts with primary sources such as newspapers and photographs to raise larger questions about language, history, representation, and literary canonicity. These collections are also easy to search and browse, which allows teachers and students alike to discover new authors and materials for research projects.
¶ 6 Leave a comment on paragraph 6 0
¶ 7 Leave a comment on paragraph 7 0 [Panel image credit: "Kingston Great Earthquake" collage from Picture Dis.]
This resource requires a library subscription. Faculty members and librarians can request a free trial of Caribbean Literature at http://alexanderstreet.com/node/291?pid=70. All other resources are free and open access. [↩]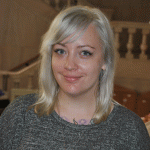 Stacey Amo
Graduate Student in English – LSU